"History never looks like history when you are living through it."
--John W. Gardner
Certain events of the past several months are being compared to 1968, a period that Newsweek described as "The Year That Changed Everything."
For some perspective, here's a selected chronology of a tumultuous twelve months played out on network TV screens (ABC, CBS, and NBC) 52 years ago. We were witnesses and participants in a divisive epoch that one person described as leaving the Baby Boom generation "stuck in the 60s decade."
January
o January 5--Prague Spring begins. Alexander Dubcek is chosen as the leader of the Communist Party of Czechoslovakia.
o January 14--The Green Bay Packers defeat the Oakland Raiders in Super Bowl II, 33-14, at the Miami Orange Bowl.
o January 21--Vietnam War. Battle of Khe Sanh, one of the most publicized and controversial battles of the war begins, ending on April 8.
o January 22--Rowan & Martin's Laugh-In debuts on NBC.
o January 23--North Korea seizes the USS Pueblo, claiming the ship violated the territorial waters while spying.
o January 30--Vietnam War. The Tet Offensive begins, as Viet Cong forces launch a series of surprise attacks across South Vietnam.
o January 31--Vietnam War. Viet Cong soldiers attack the U.S. Embassy, Saigon.
February
o February 1--Vietnam War. A Viet Cong officer name Nguyen Van Lem is executed by Nguyen Ngoc Loan, a South Vietnamese National Police Chief. The event is photographed by Eddie Adams. The stunning picture makes headlines around the world and wins the Pulitzer Prize.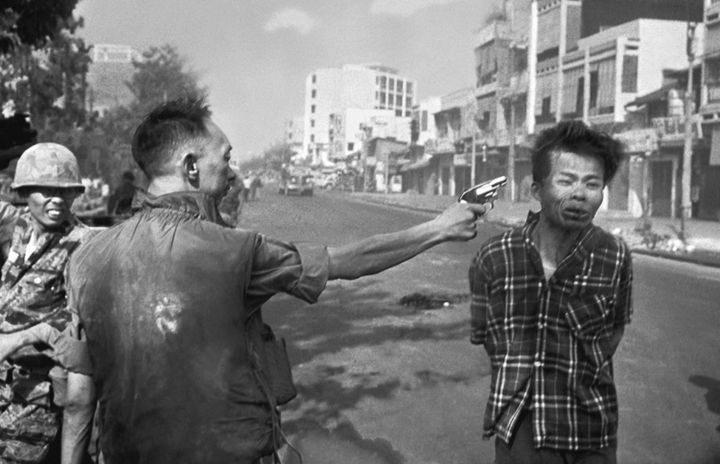 Execution of Nguyen Van Lem. (C) Eddie Adams

o February 6-18--The 1968 Winter Olympics are held in Grenoble, France.
o February 19--NET televises the very first episode of Mister Rogers' Neighborhood.
o February 24--Vietnam War. The Tet Offensive is halted.
March
o March 7--Vietnam War. The First Battle of Saigon ends.
o March 12--U.S. President, Lyndon B. Johnson, barely edges out antiwar candidate Eugene J. McCarthy in the New Hampshire Democratic primary. The close vote highlights deep divisions in the country and party over Vietnam.
o March 16--Vietnam War. My Lai Massacre where American troops kill scores of civilians. The story becomes public in November 1969.
o March 18--The U.S. Congress repeals the requirement for a gold reserve to back the U.S. dollar.
o March 23--Coach John Wooden's UCLA Bruins defeat the North Carolina Tar Heels coached by Dean Smith, 78-55. It was UCLA's fourth title in five years. They were led by All-American Lew Alcindor (Kareem Abdul-Jabar).
o March 31--U.S. President, Lyndon B. Johnson, announces he will not seek re-election.
April
o April 2--The film, A Space Odyssey, premieres in Washington, D.C.
o April 3--Martin Luther King, Jr., 39, delivers his "I've Been to the Mountaintop" speech in Memphis, Tennessee.
o April 4--Martin Luther King, Jr. is shot dead at the Lorraine Motel in Memphis, Tennessee. Riots, lasting several days, erupt in major American cities including Washington, D.C., Chicago, Baltimore, and Kansas City.
o April 11--U.S. President, Lyndon B. Johnson, signs the Civil Rights Act of 1968.
o April 23--Several hundred students gather on the campus of Columbia University in New York City. Student protestors occupy several buildings for nearly a week over institutional expansion.
o April 23--The United Methodist Church is created by the union of the former Methodist and Evangelical United Brethren churches.
May
o May 11--The Montreal Canadians defeat the St. Louis Blues in a four-game sweep to win the Stanley Cup.
o May 14--The Beatles announce the creation of Apple Records in a New York press conference.
o May 18--Mattel's Hot Wheels toy cars are announced.
o May 30--Bobby Unser wins the Indianapolis 500.
June
o June 4--The Standard & Poor's 500 Index closes above 100 for the first time, at 100.38.
o June 5--U.S. presidential candidate Robert F. Kennedy is shot at the Ambassador Hotel in Los Angeles. Sirhan Sirhan is arrested.
o June 6--Robert F. Kennedy dies from these injuries. He was 42.
o June 8--James Earl Ray is arrested for the assassination of Martin Luther King, Jr.
July
o July 13--The 1968 global flu pandemic. Influenza A virus subtype H3N2 first recorded in Hong Kong and in the U.S. in September 1968. The estimated number of deaths worldwide was one million and about 100,000 in the U.S. Most deaths were in people 65 years and older. The H3N2 virus continues to circulate globally and is associated with severe illness in older people.
o July 18--The semiconductor company Intel is founded.
August
o August 5-8--The Republican National Convention in Miami Beach, Florida nominates Richard M. Nixon for U.S. president and Spiro T. Agnew for Vice President.
o August 20-21--Warsaw Pact invasion of Czechoslovakia. The "Prague Spring" ends as 750,000 Warsaw Pact troops and 6,500 tanks with 800 aircraft invade Czechoslovakia. That invasion was the largest military operation in Europe since the end of World War II.
o August 22-30--Police clash with anti-war demonstrators in Chicago outside the 1968 Democratic National Convention, which nominates Hubert H. Humphrey for U.S. president and Edmund S. Muskie for Vice-President. The riots and subsequent trials are part of the activism of the Youth International Party.
September
o September 8--Arthur Ashe wins the first U.S. Open of the Open Era, also becoming the first black to capture the title.
o September 14--Detroit Tigers' pitcher, Denny McClain, becomes the first baseball player to win 30 games in a season since 1934. He remains the last player to accomplish the feat.

October
o October 8--Vietnam War. Operation Sealords gets underway as the United States and South Vietnamese forces launch a new operation in the Mekong Delta.
o October 10--1968 World Series. The Detroit Tigers defeat the St. Louis Cardinals in the best of 7 series, 4 games to 3, after being down 3 games to 1. The final score of game seven played in St. Louis--Tigers 4 and Cardinals 1. Mickey Lolich (3-0) is the winning pitcher and Bob Gibson (2-1) took the loss for the Cardinals.
o October 11--NASA launches Apollo 7, the first manned Apollo mission (Wally Schirra; Donn Eisele; and Walter Cunningham).
o October 12-27--The Games of the XIX Olympiad are held in Mexico City, Mexico. After being awarded gold and bronze medals, respectively, in the 200-meter sprint, U.S. athletes Tommie Smith and John Carlos bow their heads and raise their hands during the playing of the National Anthem.
o October 31--Vietnam War. Citing progress in the Paris peace talks, U.S. President Lyndon B. Johnson announces to the nation that he has ordered a complete cessation "of all air, naval, and artillery bombardment of North Vietnam effective November 1."
o November 5--U.S. presidential election. Republican candidate Richard M. Nixon defeats the Democratic candidate, Vice President Hubert H. Humphrey, and American Independent Party candidate, George C. Wallace.
o The Heidi Game--NBC cuts off the final 1:05 of an Oakland Raiders v. New York Jets football game to broadcast the pre-scheduled Heidi. Fans are unable to see Oakland (which had been trailing 32-29) score two late touchdowns to win 43-32.
o November 24--Four men hijack Pan Am flight 281 from JFK International Airport, New York to Havana, Cuba.
December
o December 9--Douglas Engelbart publicly demonstrates his pioneering hypertext system, NLS, in San Francisco, together with the computer mouse.
o December 11--The film, Oliver!, based on the London and Broadway musical, opens in the U.S. and goes on to win the Academy Award for Best Picture.
o December 24--Apollo program. The manned U.S. spacecraft Apollo 8 enters orbit around the Moon. Astronauts Frank Borman, Jim Lovell, and William A. Anders become the first humans to see the far side of the Moon and planet Earth as a whole, as well as having traveled further away from Earth than any people in history.
Earthrise, Christmas Eve, 1968, Apollo 8 Mission. (C) NASA

Anders photographs "Earthrise." The crew reads the story of creation from the Book of Genesis.
Sources:
Timeline USA: Digital Public Library; History.com; U.S. Centers for Disease Control (CDC)